Cassia Essential Oil – Possible Skin Issues:

Greener Life Diamond – Bio-Healthy Score => 3 – Possible Skin Issues:
Maximum dermal use level: 0.05%
The International Fragrance Association (IFRA) recommends that Cinnamaldehyde (the chief constituent of Cassia oil) be limited to 0.05% (about 1 drops per 3 ounces of any other carrier oils) for leave-on products like ointments, creams, and lotions. There is no restriction for body washes, shampoos, soaps, and other wash-off products because the oil does not remain on the skin.

Learn more about the Greener Life Diamond and the benefits of the Greener Life Club
Cinnamomum cassia, also known as Chinese cinnamon or Chinese cassia, originated in South China. This tree serves several purposes and is hence widely cultivated in India, Indonesia, Laos, Malaysia, Taiwan, Thailand and Vietnam. With its celebrated use in the Traditional Chinese Medicine, Cassia is regarded as one among the 50 fundamental herbs of China.
Cassia Essential Oil has a pungent, warm scent from its 1% to 2% volatile oil that is mainly responsible for the spicy aroma. It is a strong top note.
The adverse skin reactions of Cassia or the Chinese Cinnamon oil are dermal irritation, mild to severe skin sensitization, irritation of the mucous membrane and dermatitis. Cassia oil is said to exhibit no phototoxic effects but is emmenagogue in nature and might cause contraction of the uterine muscles, which is hazardous to the wellness of the fetus and the pregnant women.
The key chemical constituents that are responsible for the possible skin and other undesirable health issues of Cassia oil are cinnamaldehyde, cinnamyl acetate, cinnamic acid and cinnamyl alcohol. These components have been studied for causing acute and subchronic toxicity.
Buy Cassia Essential Oil – CLICK HERE
Studies state that cinnamaldehyde, cinnamic acid and cinnamyl alcohol may cause allergic reactions, irritation, sensitization and dermatitis when the skin is in contact with products like liniments, mouthwashes, toothpastes and creams.
Cassia oil may provoke debility, itching, irritation, insomnia, and depression in some people. This mainly occurs when the use of Cinnamaldehyde exceeds the maximum safe level of usage. The highest recommended level by the International Fragrance Association (IFRA) for Cinnamaldehyde is 0.05% for most leave-on products.
When used in vapor therapy and topical application beyond the recommended usage level, Ccnnamaldehyde, cinnamyl acetate, cinnamic acid and cinnamyl alcohol are said to contribute to the irritation of mucous membrane and are accounted for hepatotoxicity (toxic, irritant and might cause damage to the liver), mutagenic (alteration in the structure of DNA), reproductive toxicity (research supporting significant fall in the number of nuclei and changes in the allotment of embryos in pregnant mice) and restrain platelet aggregation, a vital part of the blotting clotting process.
Undiluted or concentrated Cassia oil have been shown to cause severe irritation in rabbits in certain studies and few other studies involving consecutive patients with dermatitis, few people were sensitive to 2% Cassia oil on patch testing.
Always ensure to dilute Cassia oil in appropriate carrier oils before topical use and never ingest essential oil as they may be toxic to the system.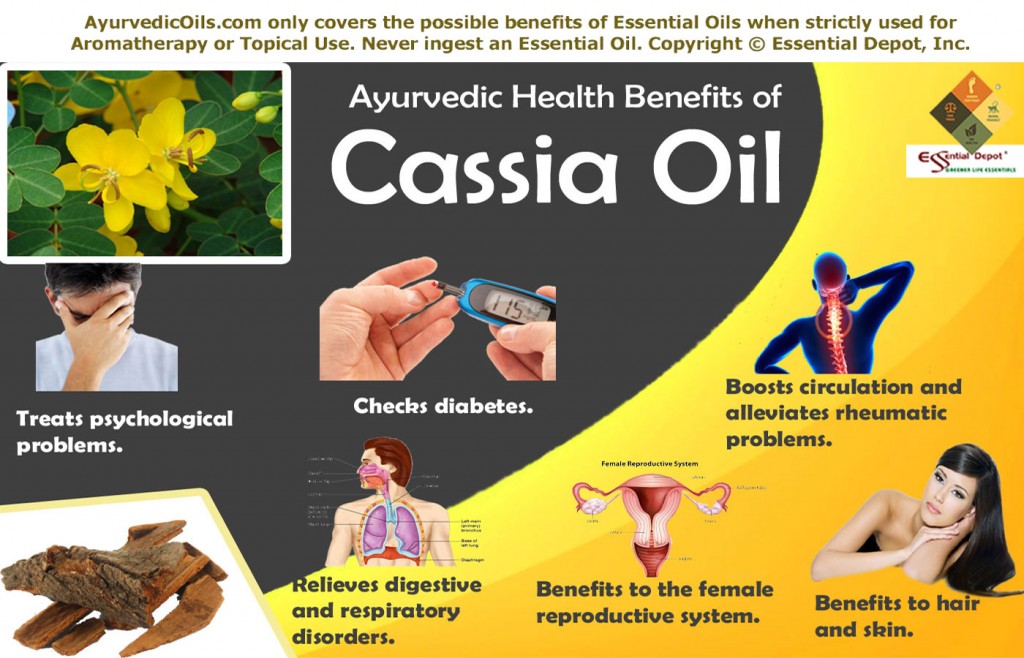 Ayurveda prescribes Cassia for the treatment of menstrual problems, nausea, respiratory infections, gastro-intestinal problems, depression, loss of libido, rheumatism, diabetes and indigestion. Cassia is botanically called as Cinnamomum cassia and is a member of the Lauraceae plant family.
Reference Links Substantiating Possible Skin Issues of Cassia Oil:
Thought for the day:
The art of healing comes from nature, not from the physician. Therefore the physician must start from nature, with an open mind. -Paracelsus
Suggested Reading:
Reference Links: