Camphor Essential Oil – Possible Skin Issues:

Greener Life Diamond – Bio-Healthy Score => 3 Possible Skin Issues:
Maximum dermal use level: 11%
Camphor essential oil should not be confused with the compound of the same name. The crude exudate of the camphor tree contains about 50% of the compound, camphor. Camphor essential oil is distilled from this exudate and contains very little camphor.  Instead, it contains mostly limonene, p-Cymene, a-Pinene, and 1,8-Cineole.

Learn more about the Greener Life Diamond and the benefits of the Greener Life Club
Latin Name: cinnamomum camphora
Alternative Name: laurel camphor, gum camphor
Forms Available: essential oil, crystalized extract, leaf
The Camphor tree can grow up to 35 meters (100 feet) and  camphor is found in every part of it. The Essential Oil is extracted by steam from the chipped wood, root stumps and branches, and is then rectified. White camphor oil is the first distillation's fraction. In China and Japan, Cinnamomum camphora must be at least 50 years old to produce oil, and can often grow as old as a thousand years. The wood has been used in the construction of temples and in ship-building because of its durability and aromatic properties.
Camphor oil has been determined to be toxic in various studies, when used in excess of the prescribed quantity. According to the safety report, the acute toxicity of Camphor oil is said to be exhibited by contact with the skin, eyes, inhaling and ingesting, and ingestion of Camphor oil should be avoided strictly mainly due to its chronic effects on the liver (hepatotoxic – toxic to the liver).
The major chemical constituents in Camphor oil, responsible for its skin sensitization, allergic reactions, irritation and autoxidation are camphene, 1,8-cineole (abnormal respiration and CNS depression, epigastric pain and cold sweats), limonene and a-pinene. Oils with limonene and a-pinene are responsible for oxidation and oxidized oils cause sensitization and irritation of the skin.
Buy Camphor Essential Oil – 4oz – CLICK HERE
Buy Camphor Essential Oil – 1KG – CLICK HERE
Using Camphor oil topically might also cause skin sensitization, irritation, skin allergies like hives, itching, rashes, swelling of the face and lip dryness. Camphor oil used as direct contact with the skin without any dilution in appropriate carrier oils is considered a dangerous skin irritant. Never use Camphor oil on cuts, broken or peeled skin.
It is highly recommended to avoid Camphor oil during pregnancy and breastfeeding, as it gets quickly absorbed by the placenta and may cause physical and neurological damage to the developing fetus and in nursing mothers there are possibilities of Camphor being absorbed through skin cracks and pass on to infants through milk (might cause damage to the infants' liver and central nervous system).
Do not use Camphor oil on patients with bronchitis, asthma, epilepsy and Parkinson's disease, as it can cause convulsions, increase spasms, seizures (by accounting to chemical disparity in the brain) and worsen the situation. It is also not recommended for high blood pressure patients as it is frequently used in the treatment of low blood pressure.
The safe level of use of Camphor is up to 3% dilution in case of liniments. As per the Dutch Information Medicamentorum, the safe usage level of Camphor is 20 to 100 mg/g for chest rubs, 0.15 mg/ml for nasal sprays, 20 to 50 mg/g for nose ointments, 1 to 70 mg/g for pruritus lotion and 40 to 250 mg/g in oils for muscular pain. However 11% is regarded as the maximum level of safe usage in all kinds of dermal applications.
Camphor, according to the Poisons Information Monograph, an International Programme on Chemical safety states that the major risks of ingestion of Camphor are renal damage, colic, anxiety, convulsions, nausea, delirium, gastric irritation, irritation of the mucous membrane, asystole, apnoea, chronic post-convulsive coma and difficulty in breathing occur after ingesting about 2 grams of Camphor (acute toxicity level) and 4 grams are possibly lethal for adults and 1 gram for children and may cause death.
This report also denotes that the major target organs for Camphor damage are the upper respiratory tract, liver, kidneys and the central nervous system. Certain studies witness the immediate collapse in infants soon after the application of Camphor to their nostrils.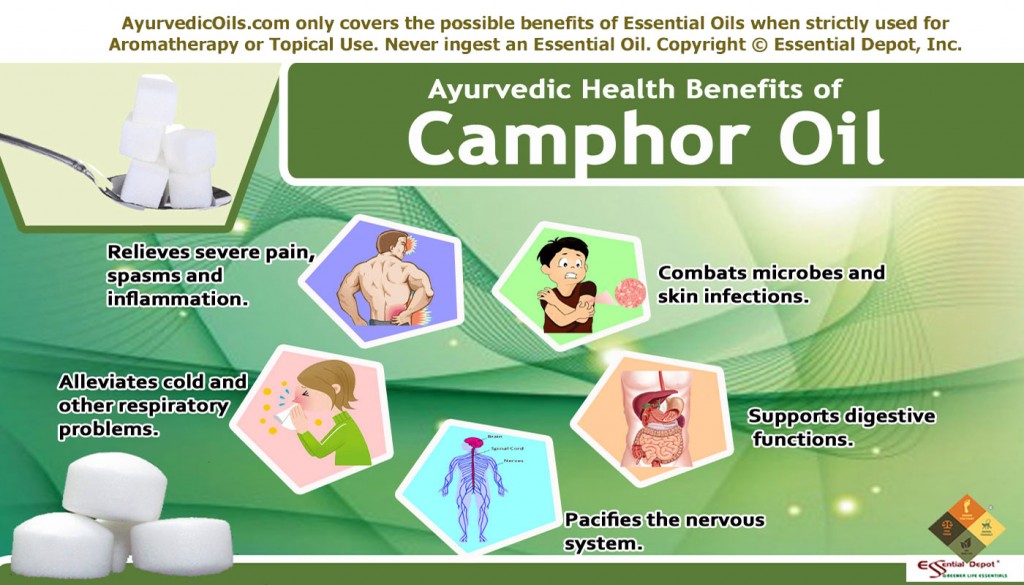 Aromatherapy & Health Uses: Coughs; Colds; Fevers; Rheumatism; Arthritis.
Traditionally, both the leaf and crystallized extract are used for wet lung conditions such as asthma and bronchitis. Camphor is useful in depression, exhaustion, and stomach cramps and to improve circulation.
Camphor is incorporated into salves for external use to kill parasites and treat ringworm, scabies, and itch. The oil open the lungs, making breathing easier, and helps with muscular and joint pain, arthritis, and bruises -not for open wounds. The salve functions as a "smelling salt," and the herb has been used internally to revive those in coma or delirium. Camphor can be burned to purify the air or inhaled to open lung passages.
Caution: Do not use this herb if you are pregnant or if you are very weak and debilitated. Only natural plant extracts should be used, as chemical camphor is contaminated with industrial poisons.
Other Uses: In solid form Camphor is added in small amounts to Lunar and Chastity type mixtures, Eucalyptus or Lavender oil may be substituted. Divination; Prophetic Dreams; Psychic Awareness. Burn in the home to purify the air and to dispel disease.
Reference Links Substantiating Possible Skin Issues of Camphor Oil:
Thought for the day:
Nature is a mutable cloud which is always and never the same. -Ralph Waldo Emerson
Suggested Reading:
Reference Links: