Calamus Essential Oil – Possible Skin Issues:

Greener Life Diamond – Bio-Healthy Score => 3 – Possible Skin Issues:
Maximum dermal use level: 0.2%
Tisserand and Young recommend that Calamus oil be limited to 0.2% (about 1 drop per ounce of any other carrier oils) for leave-on products like ointments, creams, and lotions.  There is no restriction for body washes, shampoos, soaps, and other wash-off products because the oil does not remain on the skin.

Learn more about the Greener Life Diamond and the benefits of the Greener Life Club
Latin Name: acorus calamus
Alternative Name: sweet sedge, sweet grass, sweet root, myrtle grass, cinnamon sedge, rat root, gladdon, flagroot, beewort
Forms Available: essential oil, CO2 extraction
The essential oil of Calamus should be strictly avoided during pregnancy as it has the potent to stimulate contractions in the uterine cavity and induce menstruation, being an emmenagogue and might lead to miscarriage or abortion. It is also advisable to restrict the use of Calamus oil during breastfeeding.
Many studies suggest that Calamus oil may have carcinogenic or cancer causing effects and might be toxic when used in excess. The prime chemical constituents responsible for its adverse effects are β-asarone (about 78.4%), α-asarone (about 6.8%) and methyleugenol (about 2%) in Acorus Calamus oil, which is of Indian origin. Various in vivo and in vitro studies have witnessed the negative potent of β-asarone in inducing the growth of malignant tumors.
The European Council files β-asarone as "substances which are suspected to be genotoxic carcinogens and therefore no MDI can be set". According to the 1988 European Community Council, both the European Union and the United Kingdom 'Standard Permitted Proportion' of beta-asarone in food flavorings must be 0.1 mg/kg.
IFRA (International Fragrance Association) suggests that beta-asarone and alpha-asarone should not be used as fragrance ingredients and the safe level of use of Calamus oil in consumer products should not exceed 0.01%. It also recommends that the highest concentration of methyleugenol in leave-on products like body lotion should not exceed 0.00004%.
Essential oils are highly concentrated substances and must be used in a diluted condition with safe carrier oils like coconut oil. It is meant only for topical application, and it is not recommended to take essential oils internally.
Ingestion of Calamus oil may end up in creating hallucinations, convulsions and potent toxicity. Acorus Calamus is one among the 30 unsafe herbs listed by the FDA (Food and Drug Administration).
According to the studies conducted in 1976 and 1977, Calamus oil is non-phototoxic and non-sensitizing when tested (patch testing with 2% Calamus oil) on 200 consecutive patients with dermatitis.
This warning is relevant to leave-on skin care products like creams, body lotions, massage oils and balms and not for wash-off items like shampoos and soaps.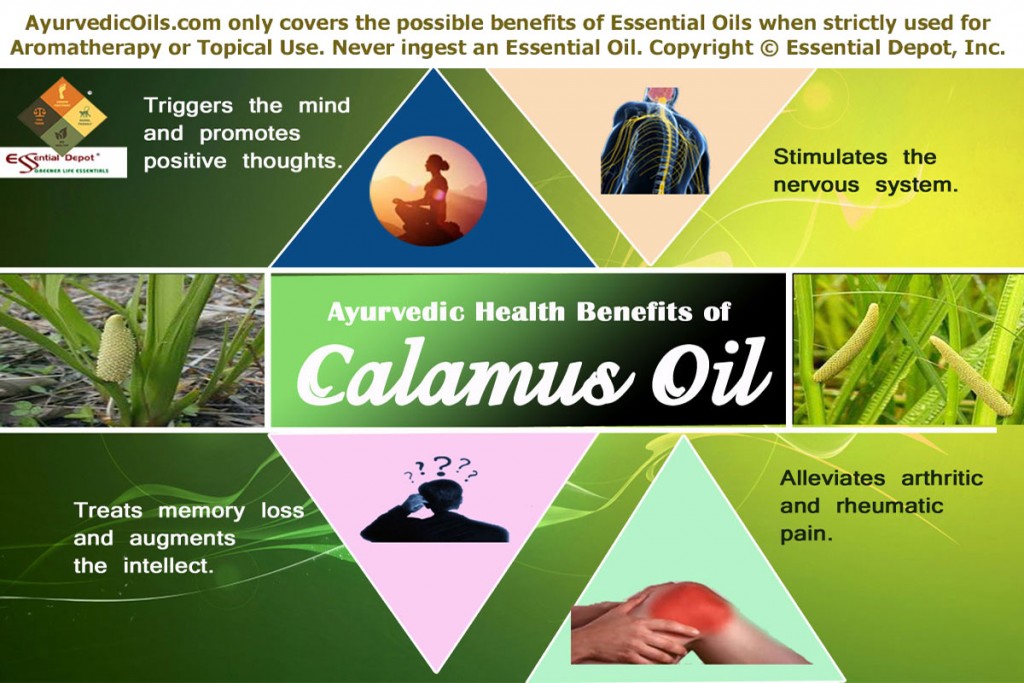 Calamus is native to Asia and Europe and has been found growing across Australia, South Africa, North America, New Guinea and Reunion. It has its name mentioned in the Old Testament and was talked about in Exodus as an element of the sacred anointing oil of the Bible.
It was also denoted in the Chester Beatty papyrus VI, which approximately dates back to 1300 BC and Papyrus used Calamus with various other ingredients in preparing a bandage to appease stomach ailments.
Calamus has been a vital part of the traditional healing system of various countries for more than thousands of years in the treatment of numerous medical conditions.
The primeval Egyptians trusted Calamus root as a potent aphrodisiac for its effectiveness in augmenting the health of the reproductive system. Calamus was added to wine in Europe and it also forms a part of absinthe.
The Penobscot people believed that Calamus root helped in healing prolonged sickness that was plaguing the people for a long time. They also steamed all through the homes to ward off illnesses and the dried roots were strung together for preservation.
The people of the Potawatomi community used the dried Calamus root powder for treating catarrh. Indonesians use this aromatic root as a flavoring agent in the preparation of meat, sea foods and other vegetarian cuisines.
The warriors of Teton-Dakota applied the root paste on their faces for alleviating fear in the warfront. Calamus essential oil is also used in making perfumes mainly because of its therapeutic properties.
The traditional Turks used this herb for all kinds of infections and it is used in preparing cough drops. It is also been used in the Traditional Chinese medicine, Siddha and Ayurvedic healing systems for its carminative, laxative, sedative and diuretic properties.
Reference Links Substantiating the Possible Skin Issues of Calamus Oil:
Thought for the day:
Every particular in nature, a leaf, a drop, a crystal, a moment of time is related to the whole, and partakes of the perfection of the whole.
-Ralph Waldo Emerson
Suggested Reading:
Reference Links: