Bitter Orange Essential Oil – Possible Skin Issues:

Greener Life Diamond – Bio-Healthy Score => 3 Possible Skin Issues:
Maximum dermal use level: 1.25% to avoid phototoxicity
The International Fragrance Association (IFRA) recommends that Bergamot oil be limited to 1.25% (about 7 drops per ounce of any other carrier oils) for leave-on products like ointments, creams, and lotions used on skin exposed to sunlight. There is no restriction for body washes, shampoos, soaps, and other wash-off products because the oil does not remain on the skin.

Learn more about the Greener Life Diamond and the benefits of the Greener Life Club
Bitter orange oil exhibits mild photosensitivity effects if the oil is oxidized, which might cause irritation and hyper-pigmentation of the skin when skin is exposed to sunlight within 12 hours of usage. The major cause being the response of the chemical components that are photoactive in nature attracts light and ends up in toxicity via molecular alterations.
The safe dermal use level of Bitter orange oil by the International Fragrance Association (IFRA) is 1.25%, specifically to avoid phototoxicity in the products used for topical application and not for soaps, shampoos and other bath preparations. This No-observed-adverse-effect-level (NOAEL) is based on various studies with Bitter orange oil on mice and swine, where the No-observed-effects-level (NOEL) was found to be 6.25%.
Bitter orange oil is Generally Recognized As Safe (GRAS) by the FDA (Food and Drug Administration). "There are no contraindications but that photosensitization may occur in fair-skinned individuals," quotes The German Commission E monograph for Bitter orange peel.
The major chemical constituent responsible for the skin sensitization and mild irritation of Bitter orange oil is Limonene, which accounts to about 90% of this oil, and certain other furanocoumarins.
According to European regulations, essential oils with furanocoumarins should be used in such a way that the overall level of bergapten does not exceed 15 ppm (parts per million) in ready-to-use cosmetic products meant for use on the skin surface that are exposed to sunlight (other than wash-away products) and 1 ppm in sunscreen and bronzing items.
Use Bitter orange oil only for external use. Iingestion of this oil should be avoided strictly, as internal use of this oil has adverse effects according to various reports. Medical research studies state that the presence of stimulants like octopamine, amines synephrine (an alkaloid with almost the related chemical structure to ephedrine in Ephedra – Ma-Huang) and N-methyltyramine are responsible for the cardiovascular toxicity of Bitter orange and this is also reported to cause increase in blood pressure and vasoconstriction.
Bitter orange should be avoided by patients with tachyarrhythmia, hypertension and narrow-angle glaucoma, mainly due its potent to cause additive effects. Overdose of synephrine in children overdose ended up in tachycardia, nausea, quick increase in blood pressure and irritation. Certain researches witness the effect of Bitter orange in restraining human cytochrome P450 3A (CYP3A) in the test tube studies.
Just like Grapefruit, Bitter orange is said to hold back a vital enzyme in the small intestine, and this may possibly have an effect on the levels of blood, when taking certain medications like antiviral, anti-anxiety, antidepressant drugs, statins and calcium channel blockers and along with the intake of caffeine.
Care should be taken if Bitter orange oil is used in massage in the abdominal area, as essential oils penetrate quickly through the skin, reach the bloodstream and may cause adverse effects. It is not recommended to take Bitter orange products when using other prescribed medications, except under strict medical supervision.
Furocoumarins are also used in various remedies on par with long-wave ultraviolet light therapy for the healing of mycosis fungoides, vitiligo and psoriasis.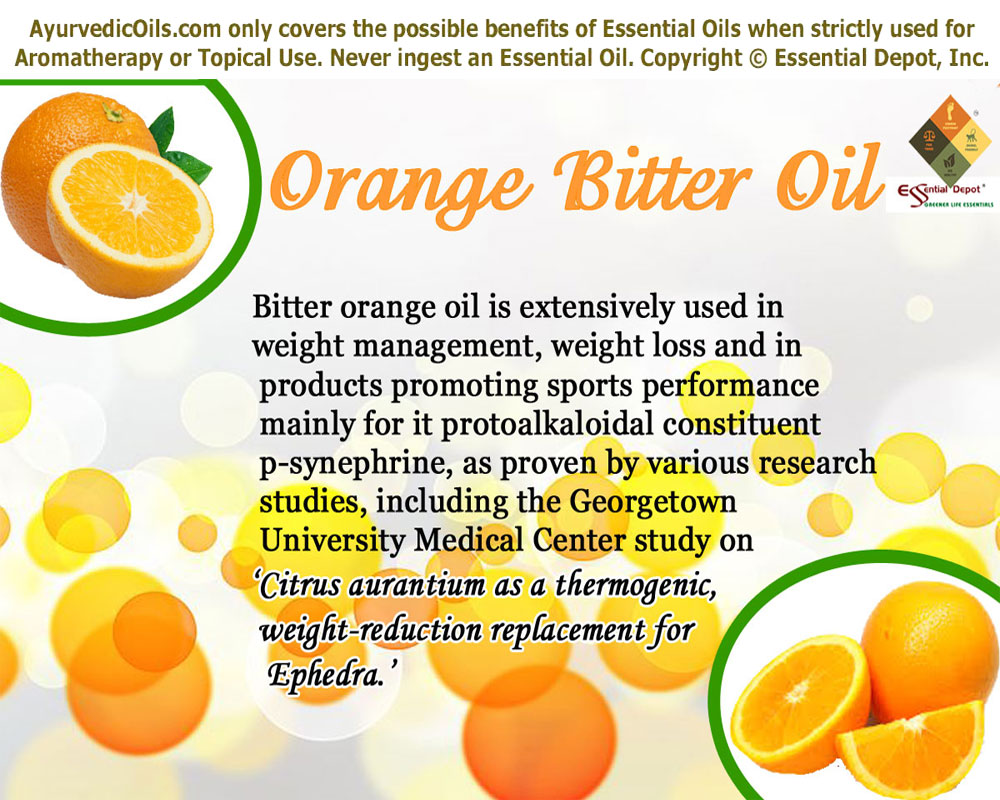 Reference Links Substantiating Possible Skin Issues of Bitter Orange Oil:
Thought for the day:
The trees that are slow to grow bear the best fruit. -Moliere
Suggested Reading:
Reference Link: