Cinnamon Essential Oil – Possible Skin Issues:

Greener Life Diamond – Bio-Healthy Score => 3 – Possible Skin Issues:
Maximum dermal use level: 0.07%

The International Fragrance Association (IFRA) recommends that Cinnamaldehyde (the chief constituent of Cinnamon Bark oil) be limited to 0.05% (about 1 drops per 3 ounces of any other carrier oils) for leave-on products like ointments, creams, and lotions. Since Cinnamon Bark oil is approximately 75% Cinnamaldehyde, the recommended maximum for Cinnamon Bark oil is 0.07% (approximately 1 drop in 2 ounces of any other carrier oils). There is no restriction for body washes, shampoos, soaps, and other wash-off products because the oil does not remain on the skin.

Learn more about the Greener Life Diamond and the benefits of the Greener Life Club
Cinnamomum zeylanicum originates in Sri Lanka. It is a tropical evergreen tree of the laurel family growing up to 15 m (45 feet) in the wild. The tree has a very thin smooth bark, with a light yellowish brown color and a highly fragrant odor.  Its pleasant scent makes it, in small amounts, a spicy addition to creams, lotions and soaps.
Although it is an indispensable spice and herbal remedy, Cinnamon is reported for negative effects including possible skin issues like allergic reactions, irritation of the skin, stimulating menstruation, contracting the uterine muscles, skin sensitization, dermatitis and burning sensation.
It is highly advisable to avoid Cinnamon oil during pregnancy as it may shrivel the uterine muscles, cause indigestion, pain in the abdomen, contribute to premature labor and is completely unsafe for the development of the fetus.
Buy Cinnamon Bark Essential Oil – 4oz – CLICK HERE
Buy Cinnamon Bark Essential Oil – 1KG – CLICK HERE
The major chemical components that are in charge for the potential skin problems and other adverse health conditions of Cinnamon oil are Cinnamaldehyde, cinnamic acid and cinnamyl alcohol. It may cause a burning sensation or irritation on the engaged parts when used in the form of skin care, oral hygiene (toothpastes and mouthwashes) and pain relieving products including ointments and rubs.
Cinnamon oil, with the presence of these constituents is said to cause subchronic and severe toxicity, when used beyond the prescribed level of use. The maximum recommended usage level of Cinnamaldehyde by The International Fragrance Association (IFRA) is 0.05%.
Though Cinnamon has GRAS (Generally Regarded As Safe) status, The Council of Europe has fixed an ADI of 1.25mg/kg for Cinnamaldehyde, which is the same as an adult dosage of 115 mg of Cinnamon bark oil.
According to the Scientific Committee on Cosmetic Products and Non-Food Products (SCCNFP) the presence of Cinnamaldehyde in any ready to use products should not surpass 0.1%.
Essential oils are recommended only for dermal application and never ingest Cinnamon oil as it may cause toxic effects on the liver (hepatotoxic), kidney (nephrotoxicity) and the entire system. Diluted Cinnamon oil in appropriate carrier oils is prescribed safe and concentrated use may cause chronic allergies, irritation, dermatitis and chronic sensitization.
Studies report severe burns in people due to the skin contact of undiluted Cinnamon oil and is commonly related to burning sensation in the skin, mouth, mucous membrane stomach and chest , intermittent blistering, nausea, dizziness and sensitization accounted to the presence of Cinnamaldehyde. This also applies to the use of Cinnamon oil in vapor therapy and dermal application.
Cinnamon oil is said to have mild phototoxic effects, control platelet aggregation (Do not use Cinnamon oil if you are taking anticoagulant and anti-diabetic medications). It may cause reproductive toxicity (when tested on pregnant mice, it decreased the count of nuclei and modified the embryo distribution).
Always do a patch test before using Cinnamon oil on your skin.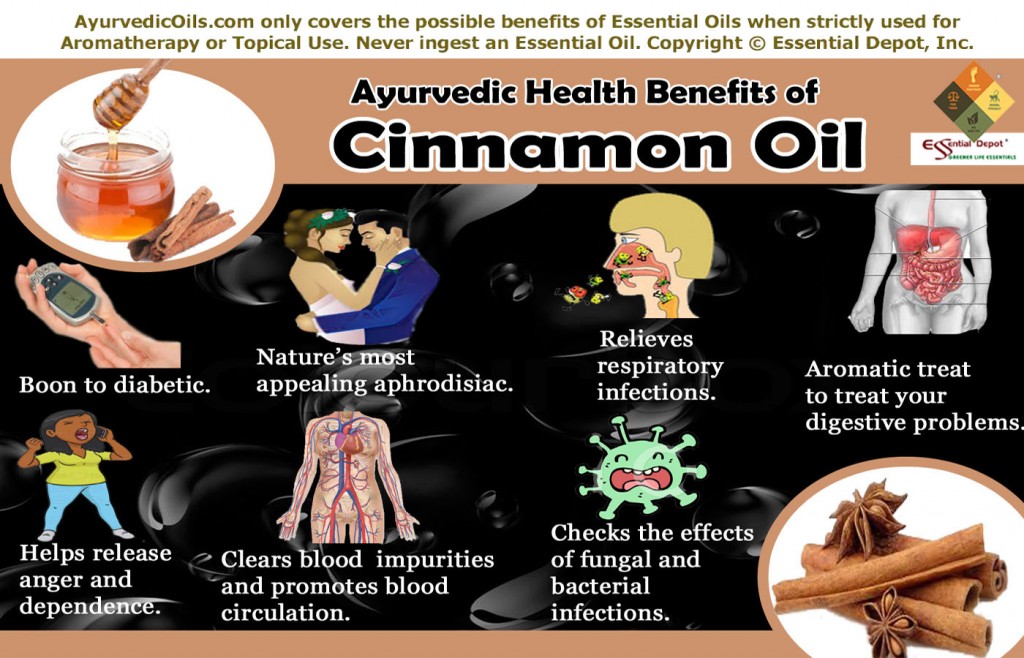 The traditional remedial properties of Cinnamon essential oil are antioxidant, astringent, antibacterial, antimicrobial, anti-clotting, anti-fungal, cardiac, emmenagogue, stimulant, analgesic, antibiotic, vermifuge, tonic, aphrodisiac, stomachic, diaphoretic, diuretic, anti-parasitic, alterative, expectorant, antispasmodic and carminative.
Thought for the day:
In wilderness I sense the miracle of life, and behind it our scientific accomplishments fade to trivia.  -Charles Lindbergh
Reference Links Substantiating Possible Skin Issues of Cinnamon Oil:
Suggested Reading:
Reference Links: