Frankincense Essential Oil

Latin Name: boswellia carterii
Alternative Name: incense, olibans, olibanum, olibanus
Forms Available: essential oil, tears, resin

Frankincense originates from a  scraggly but hardy tree indigenous to the Middle East, which is small with abundant pinnacle leaves and white or pale pink flowers. The resin begins as a fragrant sticky milky-white liquid that flows from the trunk of the tree when cut. The dried tears are collected, and the resin is then distilled, producing the precious oil. The resin is known as olibanum, derived from the Arabic al-lubān or 'that which results from milking', referring to the milky sap. It is used as incense, and has been traded for 5,000 years.  Widely used in ancient Egypt, it was one of the ingredients used in the holy oil described in the Talmud. Frankincense was brought back to Europe by Frankish Crusaders (Frank-incense), and the oil is still highly prized today in the perfumery industry, and widely used in the manufacturing of skin-care products.
Frankincense essential oil is also useful in promoting spirituality and meditative states.  Dilute before applying to the skin as it may be irritating.  Pliny claimed that Frankincense was an antidote to hemlock poisoning.  Avicenna advocated its use for tumors, fevers, vomiting, and dysentary.  Chinese herbalists use it in powder form and in teas for rheumatism and menstrual pain, and externally as a wash for sores and bruises.  The dose is three to six grains in a glass of wine; or twenty drops of the tincture.  Frankincense is highly antiseptic and the scent is said to calm and clear the mind.
Caution: Prolonged use of resins can damage the kidneys.
Buy Frankincense Oil – 4 oz – CLICK HERE
Buy Frankincense Oil – 1KG – CLICK HERE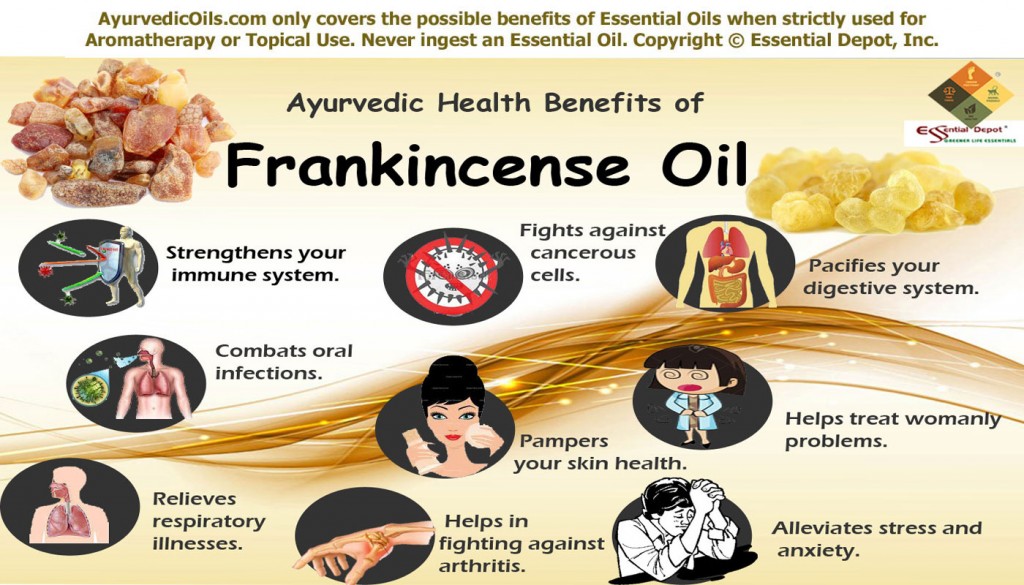 Aromatherapy & Health Uses: Oil – Blemishes; Dry and Mature Complexions; Scars; Wounds; Wrinkles; Asthma; Bronchitis; Colds; Coughs; Flu; Laryngitis; Cystitis; Anxiety; Nervous Tension; Stress-related Conditions. Frankincense has the ability to slow down, and deepen the breath.
Other Uses: Sacred to the Sun God Ra, frankincense is burned in rites of exorcism, purification, and protection. It is said to accelerate spiritual growth. Use for spirituality, exorcism, purification, luck and protection rites.
Thought for the day:
To be overcome by the fragrance of flowers is a delectable form of defeat.
-Beverley Nichols
Suggested Reading:
Reference Links: