Pine Scotch Essential Oil – Possible Skin Issues:

Greener Life Diamond – Bio-Healthy Score => 3 – Possible Skin Issues:
Maximum dermal use level: 2%
While there are no regulatory restrictions on the use of Scots Pine oil, the oxidation products of alpha-pinene and delta-3-carene can cause skin sensitization. Pine oil should be stored in dark bottles and cool locations to avoid oxidation. The use of antioxidants in formulations containing pine oil is also advised.


Learn more about the Greener Life Diamond and the benefits of the Greener Life Club
Originally from around the Mediterranean basin, this evergreen tree can grow up to 25 – 30 feet and the bark is a reddish-brown that is deeply fissured with needle-like leaves that grow in pairs, and pear-shaped cones. Historically it has been used in steam baths and massage oils.
Buy Pine Scotch Essential Oil – 4oz – CLICK HERE
Buy Pine Scotch Essential Oil – 1KG – CLICK HERE
The essential oil of Pine Scotch is said to cause mild skin irritation, contact dermatitis, sensitization, allergic reactions and irritation of the mucous membrane. It has been certified as GRAS (Generally Regarded As Safe) by the FEMA (Flavouring Extract Manufacturers' Association). The chief chemical components responsible for the adverse skin impacts of Pine Scotch oil are α-pinene, delta-3-carene and limonene, mainly due to their autoxidation effects.
Certain studies report the effects of Pine scotch oil on contact dermatitis and sensitivity. When used in large doses α-pinene has the potential to cause irritation of the mucous membrane, kidney damage, CNS (Central Nervous System) depression, growth of benign tumors, skin sensitization, allergies and irritation.
According to the Food and Cosmetic Toxicology edition (1976) by L.J. Opdyke, Pine Scotch oil sensitizing and irritating to certain individuals and is nonphototoxic in nature. When tested on repeated dermatitis patients at 2%, this oil provoked allergic reactions in about 12 members of the 1606 tested.
As Pine scotch oil has the tendency to irritate the lining of the mucous membrane during inhalation, it is good to avoid this oil if you have asthma, allergies in the respiratory passages and bronchial disorders.
The International Fragrance Association (IFRA) claims Pine Scotch oil as a sensitizing oil. Pine Scotch oil is recommended only for dermal use and not for ingestion. Besides being proved as an effective cytotoxic agent (fights against cancerous cells), certain studies have witnessed the renal failure, genotoxic and acute toxicity effects of the ingestion of Pine scotch oil.
Never use Pine scotch oil in an undiluted form and make certain that you always blend essential oils with gentle carrier oils like coconut oil and olive oil, as organic essential oils are very concentrated and may cause negative effects on the eyes, skin and the body. Stay safe by using diluted Pine scotch oil and avoid using it on allergies, damaged skin, eyes and inflammatory skin conditions.
It is better to avoid the use of Pine scotch oil if you are pregnant or nursing as there is insufficient information on the safe use of this oil during these sensitive times when the system experience enormous changes in the hormonal functions.
These possible skin issues are applicable only for leave-on products like creams and lotions and not for rinse-off products like soaps, shampoos and other bath preparations.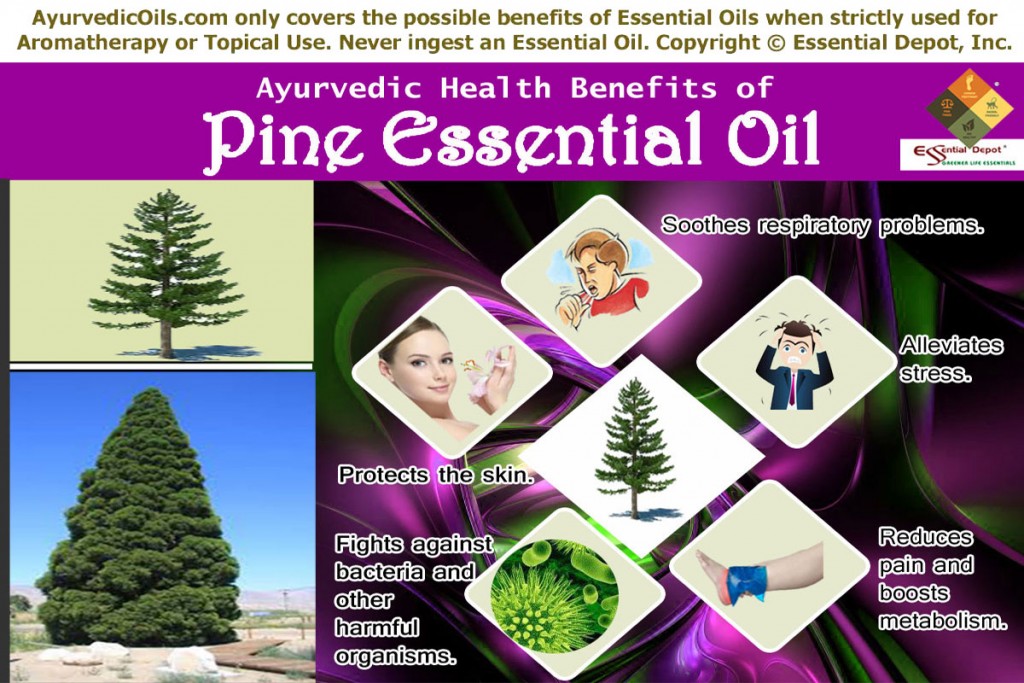 The traditional therapeutic values of Pine pinaster oil are anti-inflammatory, expectorant, restorative, stimulant, antiviral, antibacterial, circulatory, decongestant, disinfectant, analgesic and deodorant. The bark of this tree contains Oligomeric Proanthocyanidin Complexes (OPC's) that make it an effective antioxidant that can fight against free radicals responsible for cancerous diseases.
Reference Links Substantiating the Possible Skin Issues of Pine Scotch Oil:
Thought for the day:
Trees are the earth's endless effort to speak to the listening heaven.
-Rabindranath Tagore
Suggested Reading:
The Practice of Aromatherapy by Dr. Jean Valnet
Ayurveda & Aromatherapy: The Earth Essential Guide to Ancient Wisdom and Modern Healing by Dr. Light Miller, Dr. Bryan Miller
Reference Links:
Chemical and Antimicrobial Properties of Essential Oils of Five Moroccan Pinaceae published in The Journal of Essential Oil Research