Calendula

Latin Name: calendula officinalis
Alternative Name: calendula, holigold, pot marigold, bride of the sun, drunkard, goldes, husbandman's dial, Marybud, marygold, mary gowles, ruddes, oculis chrisi, ruddles, spousa solis, summer's Bride
Forms Available: CO2 extraction, leaf, powder, flower
Calendula is Marigold – calendula officinalis – A Druid sacred herb, this cheerful annual or perennial has hairy leaves and golden-orange daisy flowers. The leaves are added to salads and garnishes of flowers color rice and fish dishes. Calendula is antiseptic and antifungal and contains hormone and vitamin A precursors. Essential oil is extracted from the petals but is extremely expensive.
Buy Calendula Herbal Oil Infusion – CLICK HERE
The word 'Marigold' means 'Virgin Mary' and is trusted to possess divine healing properties and even today, these flowers are used to honor Mother Mary during numerous Catholic occasions. It is also used to decorate the deities during auspicious religious gatherings in the Hindu tradition in India.
The ancient Greeks and Romans wore garlands and crowns made with the dazzling golden color Calendula flowers and these beautiful blossoms were also used in religious ceremonies and other rituals. The traditional Egyptians believed that these sacred flowers had revitalizing attributes.
The bright golden color petals were also used in textile industry as a source of natural dye for fabrics and it was also used as a natural colorant in cheese and butter varieties. These flowers are a popular ingredient in many Middle Eastern and Mediterranean cuisines along with stews and soup varieties in Germany, for which it is called as 'Pot marigold'.
The flowers are a healing agent.  Added to fomentations, poultices and salves, they speed healing of wounds and of nerve damage.  The infusion is given for intestinal problems and to clean lymph and blood.  Useful in fevers, the herb can be used fresh, dry, or in tincture.  For tea, steep two teaspoons of flowers per cup of water for twenty minutes; take one teaspoon per hour.  Using tincture, take five to twenty drops four times a day.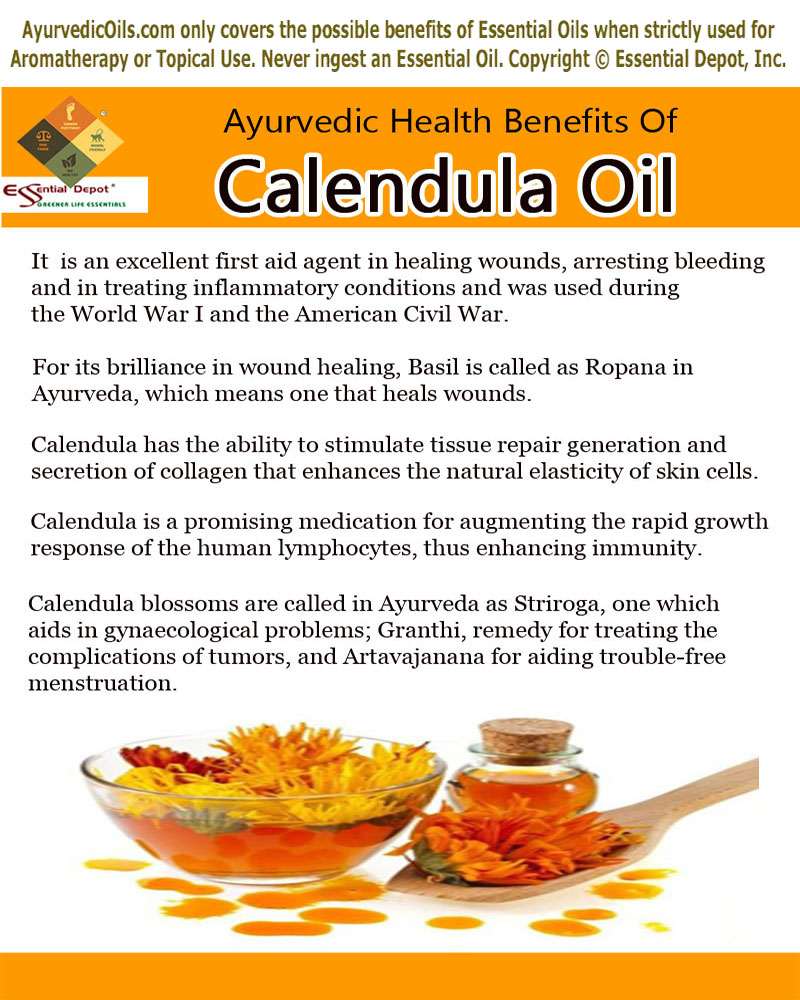 Aromatherapy & Health Uses: Anti-inflammatory and antiseptic. Aids healing of skin infections, ulcers, hemorrhoids.
Other Uses: Known as "summer's bride", the yellow calendula embodies the Sun's fire and life sustaining virtue. Calendula is carried into court for a favorable verdict. In the mattress it encourages prophetic dreams. Pick in full sun.
Thought for the day:
"The marigold goes to bed with the Sun
And with him rises, weeping."
-Shakespeare
Suggested Reading:
Reference Links: