Almond
Latin Name: prunus dulcis, prunus amygdalus
Alternative Name: sweet almond
Forms Available: oil, nut, wood, extract

Almond – prunus dulcis, prunus amygdalus – The Sweet Almond tree has dark-colored bark, rose to white flowers in early spring, and dry-fleshed fruit with a pitted stone containing the nut.
Almonds flavor many dishes. Almond oil is a fixed oil pressed from the Sweet Almond seeds and is used in cosmetics, massage oils, and medicines.
Buy Sweet Almond Oil – 1 Quart – CLICK HERE
Buy Sweet Almond Oil – 1 Gallon – CLICK HERE
Almonds must be chewed well and slowly. The whole raw almond had been described as a cancer preventative. Arabs crossing vast deserts live on only almonds, dates and water. One ounce of almonds can be soaked overnight in four ounces of water and blended in the morning to make a milk substitute. Peeled almonds can relieve heartburn. Ground almonds make a wonderful facial scrub. The oil relieves coughs and hoarseness. Almonds have very little starch, and the butter and flour of the nuts is recommended for diabetics.
Caution – Almonds contain hydrocyanic acid and can be toxic if eaten in large amounts such as over 50 kernels for an adult and ten for a child.
Sweet almond oil is obtained from the nut of the tree, which is native to Asia and the Mediterranean. This oil is a favorite carrier oil for essential oil aromatherapy blends, although it is often used by itself for moisturizing skin. The oil has no scent and is a great nutrient for softening and conditioning the skin. It has been known to be especially suitable for eczema, itchy, dry and inflamed skin.  It is very lubricating but not very penetrating. Since it contains glucosides, vitamins and minerals, it makes a fabulous massage oil. Widely used in lotions, lotion bars, balms and soaps, sweet almond oil saponifies easily and produces a mild soap with very good lather. This oil can be used as a large percentage of the fats or as an oil added at trace.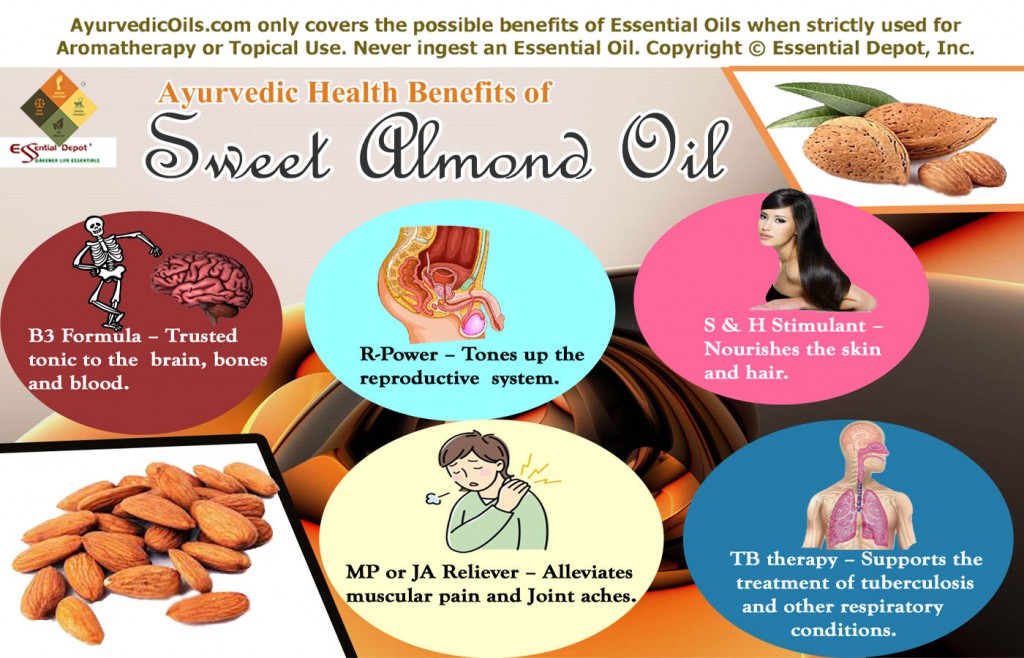 Aromatherapy & Health Uses: The oil is a great base for massage, bath, body and skin-care products. Sweet Almond oil is scentless and nourishing to the skin.
Other Uses: Wood – Burn for money, riches and wisdom. Almond wood makes a nice magical wand. Sweet Almond Oil is one of the primary carrier oils for ritual and anointing blends.
Thought for the day:
I said to the almond tree, 'Friend, speak to me of God,' and the almond tree blossomed.
-Nikos Kazantzakis
Suggested Reading:
Reference Links: