Bay Laurel Oil – Possible Skin Issues:

Greener Life Diamond – Bio-Healthy Score => 3: Possible Skin Issues:
Maximum dermal use level: 0.5% to avoid skin sensitization

Tisserand and Young recommend that Bay Laurel oil be limited to 0.5% (about 3 drops per ounce of any other carrier oils) for leave-on products like ointments, creams, and lotions. There is no restriction for body washes, shampoos, soaps, and other wash-off products because the oil does not remain on the skin.

Learn more about the Greener Life Diamond and the benefits of the Greener Life Club
Latin Name: laurus nobilis
Alternative Name: sweet bay, bay tree, baie, daphne, grecian laurel, laurel, laurier d'apollon, laurier sauce, lorbeer, noble laurel, roman laurel.
Bay is an evergreen tree which can grow up to 20 meters high with dark green, glossy leaves and black berries. Bay was very popular with the Romans, who thought it was a symbol of wisdom, peace and protection. The Latin laudis means 'to praise', which is why the victors at the Olympic Games were presented with a laurel wreath made of bay leaves.
Bay oil is said to exhibit irritation, sensitization, hepatoxicity and cytotoxicity. Topical application and inhalation of this oil might cause allergies, skin irritation, sensitization in pregnant women, children and nursing mothers, arrest blood clotting and irritate the mucous membranes. It is recommended to avoid Bay oil during pregnancy, even in a diluted form, as it may cause harm to the developing fetus.
The key chemical constituents responsible for the possible skin issues of Bay Laurel oil are eugenol and methyleugenol. Although it is an excellent decongestant and antiseptic, eugenol in undiluted Bay oil can cause rashes, itching, irritation of the skin and the mucous membranes, when applied as a decongestant ointment or during inhalation of the concentrated oil. Always dilute Bay Laurel oil with an inert carrier oil and perform a patch test on your skin before using it for dermatological purposes.
Buy Bay Essential Oil – CLICK HERE
Numerous studies state that Bay oil has cytotoxic effects, which means it can be toxic or deadly to cells. For this effect, Bay oil is used therapeutically in Apoptosis or a genetic line up for controlled cell death, especially in the treatment of Cancer. Chemotherapy (treatment of cancer) solely depends upon the potential of cytotoxic remedies to destroy the existing cancerous cells and thwart the rapid reproducing ability of cancer cells (Antiproliferative ability).
According to the European Commission's scientific committee opinion on Food,  Methyleugenol displays genotoxic and carcinogenic effect and should be limited in products that remain on the skin.
Bay Laurel is often confused with other members of the Laurel family like Mountain Laurel, Cherry Laurel, which are potential toxic agents. It is also confused with Westy Indian Bay.
This warning is applicable to direct skin applications like lotions, balms, massage oils and creams and not for bathing products like soaps and shampoos.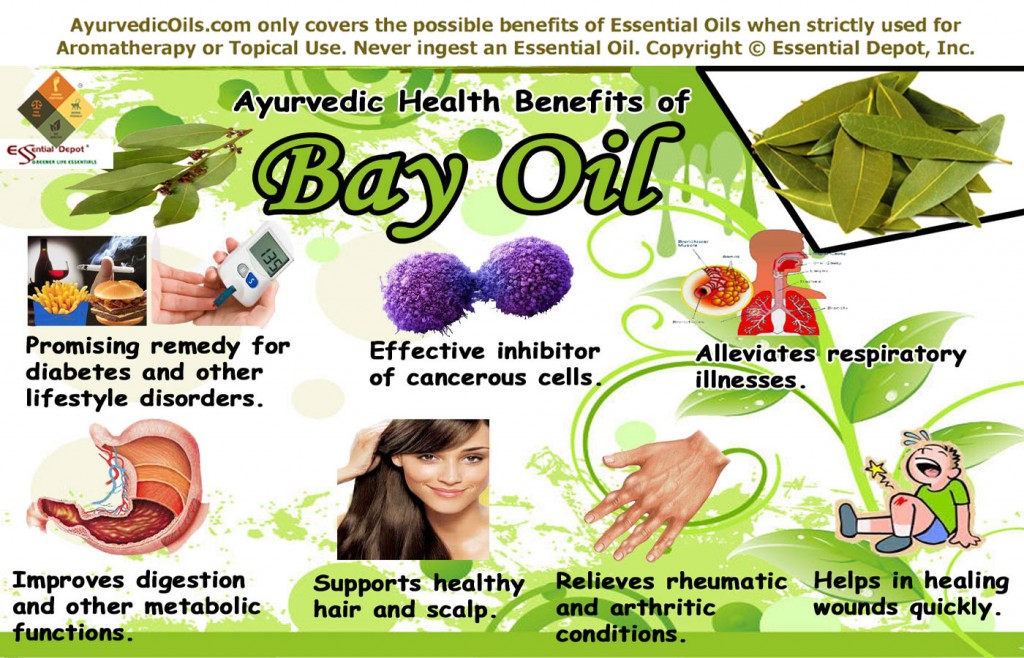 Bay leaf is known as Tejpatta (Indian Bay leaf or Cinnamomum tamala) in Ayurveda, and it has been used in the treatment of scalp dryness, migraine, amenorrhea, neuralgia, headache, asthma, poor memory, kidney infections, joint pain, uterus infection, arthritis, high blood sugar, menstrual difficulties, flatulence, stress, indigestion, diabetes and certain respiratory problems.
The wood is used to give an aromatic tang to smoked foods, and oil of Bay, from the fruit, flavors some liqueurs.  A leaf decoction added to bath water will relieve aching limbs, and diluted leaf essential oil can treat sprains and rheumatic joints but may irritate the skin.  The leaf and berry are used in salves for itching, sprains, bruises, skin irritations, and rheumatic pain.  The fruit and leaf are simmered until soft and made into a poultice with honey for chest colds.  Bay leaf and berry tea makes a bath additive that helps the bladder, bowel, and female reproductive organs.  Use two tablespoons per cup and steep for forty-five minutes; add to bath water.
Aromatherapy & Health Uses: Sprains; Colds; Flu; Insomnia; Rheumatism.
Other Uses: Bay leaves were used by the Delphic priestesses. The incense and the leaf are said to produce a prophetic trance. Burn for psychic powers, purification, wish magic, exorcism, healing/health, protection, divination, visions, clairvoyance, energy, power.
Reference Links Substantiating Possible Skin Issues of Bay oil:
Thought for the day:
Nature and books belong to the eyes that see them.
-Ralph Waldo Emerson
Suggested Reading:
Reference Links: